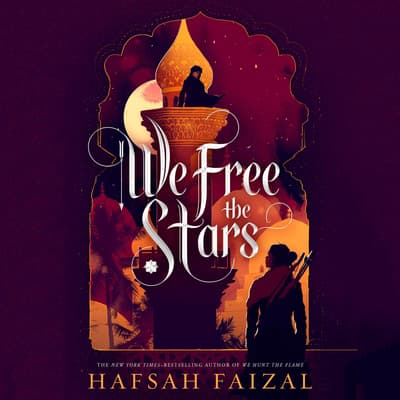 Format:

Digital Download

(In Stock)
2 Formats:

Digital Download

or 2 Credits

Available on 01/19/2021

ISBN: 9781250619082

Available on 01/19/2021

ISBN: 9781250619075
We Free the Stars is the follow-up to the New York Times bestselling novel We Hunt the Flame! After the battle on Sharr that closed We Hunt the Flame, Zafira and Nasir return to a ghostly Sultan's Keep, low on resources and allies alike. The dark forest has fallen, but the kingdom teems with fear of the Lion of the Night's return. As Nasir fights to command the dark power in his blood, Zafira fights against a very different darkness festering through her bond with the Jawarat. The second audiobook in the Sands of Arawiya duology, by the masterful Hafsah Faizal. A Macmillan Audio production from Farrar, Straus and Giroux
Learn More
Membership Details
Only $12.99/month gets you 1 Credit/month
Cancel anytime
Hate a book? Then we do too, and we'll exchange it.
See how it works in 15 seconds
Summary
We Free the Stars is the follow-up to the New York Times bestselling novel We Hunt the Flame! After the battle on Sharr that closed We Hunt the Flame, Zafira and Nasir return to a ghostly Sultan's Keep, low on resources and allies alike. The dark forest has fallen, but the kingdom teems with fear of the Lion of the Night's return. As Nasir fights to command the dark power in his blood, Zafira fights against a very different darkness festering through her bond with the Jawarat. The second audiobook in the Sands of Arawiya duology, by the masterful Hafsah Faizal. A Macmillan Audio production from Farrar, Straus and Giroux
Editorial Reviews
"Lyrical and filled with adventure, a slow-burn romance, and an unforgettable cast of characters in a world based on ancient Arabia, this is a debut series not to be missed." —School Library Journal (starred review) on We Hunt the Flame
"Fans of Bardugo's Six of Crows or Chokshi's The Star-Touched Queen will be thrilled with the book's impressive world-building, stellar cast, and intricate story." —The Bulletin of the Center for Children's Books (starred review) on We Hunt the Flame
"Layering high-stakes action with moods ranging from casual humor to raw anguish, Faizal bends fantasy tropes to her will to tell a fresh and gripping story about love, honor, and self-discovery that will leave readers scrambling for more." —Booklist (starred review) on We Hunt the Flame
Details
Available Formats :
Digital Download, CD
Category:
Fiction/Fantasy
Audience:
Young Adult (12–17)
Language:
English
To listen to this title you will need our latest app
Due to publishing rights this title requires DRM and can only be listened to in the Urban Audio Books app
DRM (Digital Rights Management) is a copyright protection for digital media. While much of Urban Audio Books's content is DRM free, and allows for usage across platforms, select products on Urban Audio Books are required by publishers to have DRM protected files. These products will be playable exclusively on the UrbanAudioBooks.com apps, available for iOS and Android devices.