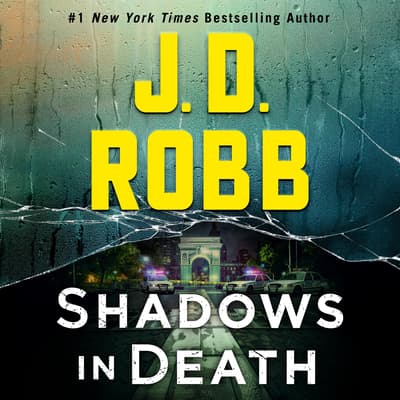 In the new novel in the #1 New York Times-bestselling series, Lt. Eve Dallas is about to walk into the shadows of her husband's dangerous past… While Eve examines a fresh body in Washington Square Park, her husband, Roarke, spots a man among the onlookers he's known since his younger days on the streets of Dublin. A man who claims to be his half brother. A man who kills for a living—and who burns with hatred for him. Eve is quick to suspect that the victim's spouse—resentful over his wife's affair and poised to inherit her fortune—would have happily paid an assassin to do his dirty work. Roarke is just as quick to warn her that if Lorcan Cobbe is the hitman, she needs to be careful. Law enforcement agencies worldwide have pursued this cold-hearted killer for years, to no avail. And his lazy smirk when he looked Roarke's way indicates that he will target anyone who matters to Roarke…and is confident he'll get away with it. Eve is desperate to protect Roarke. Roarke is desperate to protect Eve. And together, they're determined to find Cobbe before he finds them—even if it takes them across the Atlantic, far outside Eve's usual jurisdiction… A Macmillan Audio production from St. Martin's Press
Learn More
Membership Details
Only $12.99/month gets you 1 Credit/month
Cancel anytime
Hate a book? Then we do too, and we'll exchange it.
See how it works in 15 seconds
Summary
New York Times Bestseller in Audio
New York Times bestseller
In the new novel in the #1 New York Times-bestselling series, Lt. Eve Dallas is about to walk into the shadows of her husband's dangerous past… While Eve examines a fresh body in Washington Square Park, her husband, Roarke, spots a man among the onlookers he's known since his younger days on the streets of Dublin. A man who claims to be his half brother. A man who kills for a living—and who burns with hatred for him. Eve is quick to suspect that the victim's spouse—resentful over his wife's affair and poised to inherit her fortune—would have happily paid an assassin to do his dirty work. Roarke is just as quick to warn her that if Lorcan Cobbe is the hitman, she needs to be careful. Law enforcement agencies worldwide have pursued this cold-hearted killer for years, to no avail. And his lazy smirk when he looked Roarke's way indicates that he will target anyone who matters to Roarke…and is confident he'll get away with it. Eve is desperate to protect Roarke. Roarke is desperate to protect Eve. And together, they're determined to find Cobbe before he finds them—even if it takes them across the Atlantic, far outside Eve's usual jurisdiction… A Macmillan Audio production from St. Martin's Press
Editorial Reviews
"Another adrenaline-fueled thriller that never loses its capacity to enthrall."
—
Booklist
"Excellent…Robb's many fans will be enthralled."
—
Publishers Weekly (starred review)
Details
Available Formats :
CD, CD
Category:
Fiction/Mystery & Detective
Audience:
Adult
Language:
English
To listen to this title you will need our latest app
Due to publishing rights this title requires DRM and can only be listened to in the Urban Audio Books app
DRM (Digital Rights Management) is a copyright protection for digital media. While much of Urban Audio Books's content is DRM free, and allows for usage across platforms, select products on Urban Audio Books are required by publishers to have DRM protected files. These products will be playable exclusively on the UrbanAudioBooks.com apps, available for iOS and Android devices.