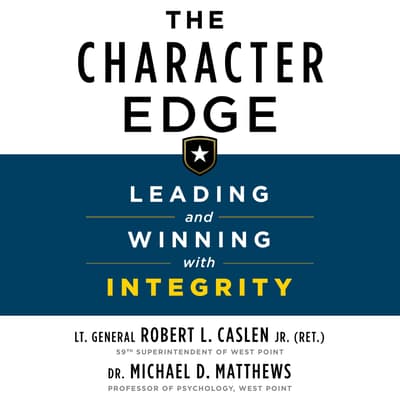 Format:

Digital Download

(In Stock)
2 Formats:

Digital Download

or 2 Credits

ISBN: 9781250770448
This program includes a preface read by the authors. The former superintendent at West Point and a psychologist explain why all successful leaders rely on a foundation of strong character. Among the most successful leaders throughout history—from Abe Lincoln to Rosa Parks, Mahatma Gandhi to Susan B. Anthony, Martin Luther King, Jr. to Nelson Mandela—some were brilliant mathematicians and economists, others were creative visionaries, still others were masterful at strategic planning. Their mastery of their field wasn't the secret to their highly effective leadership. All of their skill, grit, resilience, charisma, and courage emanated from one thing: their strength of character. Character—the moral values and habits of an individual—is in the spotlight now more than perhaps at any other point in modern history. Politicians distort facts. Corporations cheat customers and investors. Athletes are caught using illegal supplements. In addition to harming our culture at large, these failures of character have a profound and undermining impact on leadership. The authors of this book are experts on the value of character, its correlation with successful leadership, and how to build it in individuals and prospective leaders. General Robert L. Caslen, Jr. served the US Army for over 43 years and served as Superintendent at the US Military Academy at West Point. Psychologist Dr. Michael D. Matthews is a Professor of Engineering Psychology at West Point who has focused on the psychology of character for years. Together they witnessed firsthand that raw talent is not enough to stand on its own; successful leadership relies on the critical foundation of a strong character. In The Character Edge they leverage their perspectives to offer an empowering, story-driven argument—backed by the latest scientific research—that character is vital to success. They give listeners the tools to build and sustain character in themselves and their organizations by testing listeners' strengths of the gut, head and heart and teaching how to build trust and nurture the seeds of character. A Macmillan Audio production from St. Martin's Press
Learn More
Membership Details
Only $12.99/month gets you 1 Credit/month
Cancel anytime
Hate a book? Then we do too, and we'll exchange it.
See how it works in 15 seconds
Summary
This program includes a preface read by the authors. The former superintendent at West Point and a psychologist explain why all successful leaders rely on a foundation of strong character. Among the most successful leaders throughout history—from Abe Lincoln to Rosa Parks, Mahatma Gandhi to Susan B. Anthony, Martin Luther King, Jr. to Nelson Mandela—some were brilliant mathematicians and economists, others were creative visionaries, still others were masterful at strategic planning. Their mastery of their field wasn't the secret to their highly effective leadership. All of their skill, grit, resilience, charisma, and courage emanated from one thing: their strength of character. Character—the moral values and habits of an individual—is in the spotlight now more than perhaps at any other point in modern history. Politicians distort facts. Corporations cheat customers and investors. Athletes are caught using illegal supplements. In addition to harming our culture at large, these failures of character have a profound and undermining impact on leadership. The authors of this book are experts on the value of character, its correlation with successful leadership, and how to build it in individuals and prospective leaders. General Robert L. Caslen, Jr. served the US Army for over 43 years and served as Superintendent at the US Military Academy at West Point. Psychologist Dr. Michael D. Matthews is a Professor of Engineering Psychology at West Point who has focused on the psychology of character for years. Together they witnessed firsthand that raw talent is not enough to stand on its own; successful leadership relies on the critical foundation of a strong character. In The Character Edge they leverage their perspectives to offer an empowering, story-driven argument—backed by the latest scientific research—that character is vital to success. They give listeners the tools to build and sustain character in themselves and their organizations by testing listeners' strengths of the gut, head and heart and teaching how to build trust and nurture the seeds of character. A Macmillan Audio production from St. Martin's Press
Editorial Reviews
The Character Edge artfully combines scholarly research and practical experience in an interesting, persuasive way. I think character matters more today than at any time in my memory. Bob Caslen and Michael Matthews get it right. —General Martin E. Dempsey, US Army (Retired), 18th Chairman of the Joint Chiefs of Staff, author of Radical Inclusion: What the Post-9/11 World Should Have Taught Us About Leadership
We believe it is the quality and character of the leader that determines the results. In
The Character Edge
we discover a blueprint for instilling values-based leadership to achieve significance and success.
—
Frances Hesselbein, Chairman, The Frances Hesselbein Leadership Forum, Former CEO, Girl Scouts of the USA, Presidential Medal of Freedom recipient
As school administrators, be it at the state, local and campus levels, we have much in common with the sacred responsibility of military leaders, especially in light of what LTG (Ret.) Caslen terms the "Bank of Public Trust." Caslen and Matthews give compelling illustrations of how trust accounts must be cherished and nurtured overtime and modeled consistently with "deposits of competence, character and caring." As educators and public servants there is much we can draw from the stories, the exquisite scholarship and the "right way" lessons found throughout
The Character Edge
.
—
Mary M. Keller, Ed.D., President and CEO (Retired), The Military Child Education Coalition
In
The Character Edge
, Caslen and Matthews offer the definitive guide to how individuals and organizations may build and utilize positive character to flourish and win. Corporations who 'get' this message excel, those that do not will fail in the long run.
—
Indra Nooyi, Former Chairman & CEO, PepsiCo
The world needs leaders with strong character more than ever, and
The Character Edge
will show you how that is done in two institutions that carry the trust and respect of all Americans— the United States Military Academy at West Point, and the United States Army. This book is a must read for anyone who aspires to live a life of character.
—
General (Retired) Raymond T. Odierno, 38th Chief of Staff of the United States Army
General Caslen and Michael Matthews are absolutely the right people to write this book. Together, they form a Genius of AND—the art of leadership AND the science of character, the crucible of hard experience AND the rigor of academic research, the searing lessons of decisive action AND the enduring insights of wise reflection. Few great leaders have charismatic personality, but all have character that inspires. Caslen and Matthews show how and why this fundamental inner architecture of leadership can—and must—be built. —Jim Collins, #1 New York Times bestselling author of Good to Great
"The Character Edge is inspiring and practical in equal measure, drawing upon both scientific research and personal experience in how, and why, to develop strengths of heart, mind, and gut. Only Mike Matthews and Bob Caslen could have written it. This will surely be an instant classic! —Angela Duckworth, CEO of the Character Lab and #1 New York Times bestselling author of Grit
If you ever aspire to effective leadership, whether at the tactical or strategic level, you'll soon learn that the most important ingredient in effective leadership is character. Bob Caslen and Mike Matthews have captured this truth in both theory and application with moving and insightful stories and personal experiences. This book will both challenge you and motivate you to lead a life of integrity and honor, and in so doing, inspire the men and women you lead to the highest achievements they never thought possible. —Admiral William H. McRaven, US Navy (Retired) and #1 New York Times bestselling author of Make Your Bed and Sea Stories: My Life in Special Operations
General Bob Caslen and Dr. Mike Matthews have done a great job illustrating why character and excellence are the most important elements in effective leadership. I have always believed that character and excellence go hand in hand, and this has always been the formula for our teams that win. Bob and Mike are proven leaders of character, and their examples and principles are what I have used my entire career.
—
Mike Krzyzewski, head men's basketball coach at Duke University
"Caslen and Matthews show how and why this fundamental inner architecture of leadership can—and must—be built."
—
Jim Collins, #1 New York Times bestselling author
Details
Available Formats :
Digital Download, CD
Category:
Nonfiction/Business & Economics
Runtime:
9.97
Audience:
Adult
Language:
English
To listen to this title you will need our latest app
Due to publishing rights this title requires DRM and can only be listened to in the Urban Audio Books app
DRM (Digital Rights Management) is a copyright protection for digital media. While much of Urban Audio Books's content is DRM free, and allows for usage across platforms, select products on Urban Audio Books are required by publishers to have DRM protected files. These products will be playable exclusively on the UrbanAudioBooks.com apps, available for iOS and Android devices.