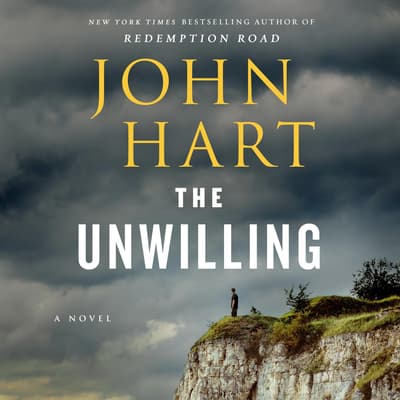 Format :

Digital Download

(In Stock)
2 Formats:

Digital Download

or 2 Credits

ISBN: 9781250752208
This program includes a letter read by the author "We the unwilling, led by the unqualified to kill the unfortunate, die for the ungrateful." —Unknown Soldier Set in the South at the height of the Vietnam War, The Unwilling combines crime, suspense, and searing glimpses into the human mind and soul in New York Times bestselling author John Hart's singular style. Gibby's older brothers have already been to war. One died there. The other came back misunderstood and hard, a decorated killer now freshly released from a three-year stint in prison. Jason won't speak of the war or of his time behind bars, but he wants a relationship with the younger brother he hasn't known for years. Determined to make that connection, he coaxes Gibby into a day at the lake: long hours of sunshine and whisky and older women. But the day turns ugly when the four encounter a prison transfer bus on a stretch of empty road. Beautiful but drunk, one of the women taunts the prisoners, leading to a riot on the bus. The woman finds it funny in the moment, but is savagely murdered soon after. Given his violent history, suspicion turns first to Jason; but when the second woman is kidnapped, the police suspect Gibby, too. Determined to prove Jason innocent, Gibby must avoid the cops and dive deep into his brother's hidden life, a dark world of heroin, guns, and outlaw motorcycle gangs. What he discovers there is a truth more disturbing than he could have imagined: not just the identity of the killer and the reasons for Tyra's murder, but the forces that shaped his brother in Vietnam, the reason he was framed, and why the most dangerous man alive wants him back in prison. This is crime fiction at its most raw, an exploration of family and the past, of prison and war and the indelible marks they leave. A Macmillan Audio production from St. Martin's Press
Learn More
Membership Details
Only $12.99/month gets you 1 Credit/month
Cancel anytime
Hate a book? Then we do too, and we'll exchange it.
See how it works in 15 seconds
Summary
This program includes a letter read by the author
"We the unwilling, led by the unqualified to kill the unfortunate, die for the ungrateful." —Unknown Soldier
Set in the South at the height of the Vietnam War, The Unwilling combines crime, suspense, and searing glimpses into the human mind and soul in New York Times bestselling author John Hart's singular style.
Gibby's older brothers have already been to war. One died there. The other came back misunderstood and hard, a decorated killer now freshly released from a three-year stint in prison. Jason won't speak of the war or of his time behind bars, but he wants a relationship with the younger brother he hasn't known for years.
Determined to make that connection, he coaxes Gibby into a day at the lake: long hours of sunshine and whisky and older women. But the day turns ugly when the four encounter a prison transfer bus on a stretch of empty road. Beautiful but drunk, one of the women taunts the prisoners, leading to a riot on the bus. The woman finds it funny in the moment, but is savagely murdered soon after.
Given his violent history, suspicion turns first to Jason; but when the second woman is kidnapped, the police suspect Gibby, too. Determined to prove Jason innocent, Gibby must avoid the cops and dive deep into his brother's hidden life, a dark world of heroin, guns, and outlaw motorcycle gangs. What he discovers there is a truth more disturbing than he could have imagined: not just the identity of the killer and the reasons for Tyra's murder, but the forces that shaped his brother in Vietnam, the reason he was framed, and why the most dangerous man alive wants him back in prison.
This is crime fiction at its most raw, an exploration of family and the past, of prison and war and the indelible marks they leave.
A Macmillan Audio production from St. Martin's Press
Editorial Reviews
"Unforgettable and propulsive…extremely well-written suspense with emotional depth."
—
AARP magazine
"Another scorcher from Hart … [he] keeps us engaged … subtly folding quiet, character-driven moments into the story while still powering the narrative toward an all-stops-out ending—and a chilling coda. Remember to breathe after you turn the last page."
—
Booklist (starred review)
"The Unwilling is crime fiction at its absolute best. An impeccable story teller, John Hart weaves an intricate tale of family, war, prison, and murder into a thoroughly thought-provoking and enjoyable read that I absolutely could not put down."
—
Mark Greaney, New York Times bestselling author
Details
Available Formats :
Digital Download, CD
Category:
Fiction/Thrillers
Runtime:
13.98
Audience:
Adult
Language:
English
To listen to this title you will need our latest app
Due to publishing rights this title requires DRM and can only be listened to in the Urban Audio Books app
DRM (Digital Rights Management) is a copyright protection for digital media. While much of Urban Audio Books's content is DRM free, and allows for usage across platforms, select products on Urban Audio Books are required by publishers to have DRM protected files. These products will be playable exclusively on the UrbanAudioBooks.com apps, available for iOS and Android devices.