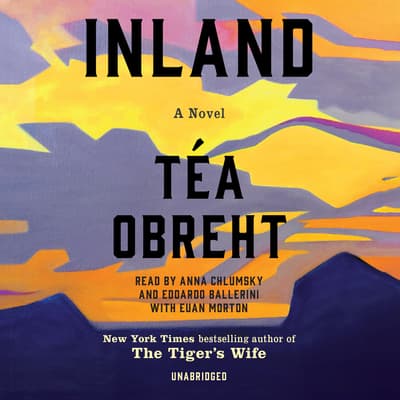 The New York Times bestselling author of The Tiger's Wife returns with "a bracingly epic and imaginatively mythic journey across the American West" (Entertainment Weekly). In the lawless, drought-ridden lands of the Arizona Territory in 1893, two extraordinary lives unfold. Nora is an unflinching frontierswoman awaiting the return of the men in her life—her husband, who has gone in search of water for the parched household, and her elder sons, who have vanished after an explosive argument. Nora is biding her time with her youngest son, who is convinced that a mysterious beast is stalking the land around their home. Meanwhile, Lurie is a former outlaw and a man haunted by ghosts. He sees lost souls who want something from him, and he finds reprieve from their longing in an unexpected relationship that inspires a momentous expedition across the West. The way in which Lurie's death-defying trek at last intersects with Nora's plight is the surprise and suspense of this brilliant novel. Mythical, lyrical, and sweeping in scope, Inland is grounded in true but little-known history. It showcases all of Téa Obreht's talents as a writer, as she subverts and reimagines the myths of the American West, making them entirely—and unforgettably—her own. Advance praise for Inland "This is no boilerplate Louis L'Amour yarn—there are ghosts, camels and other fantastical elements."—Newsday (Best Summer Books 2019) "The long-anticipated second novel from Téa Obreht transports readers to the Wild West through the juxtaposed stories of a frontierswoman whose husband and sons have gone missing, and of an outlaw on the run."—Bustle "Magnificent . . . brings to mind similar effects in, say, Gabriel García Márquez's One Hundred Years of Solitude or Toni Morrison's Beloved."—The Times Literary Supplement "Obreht masterfully intertwines [Nora's and Lurie's] seemingly unconnected stories with the rich prose, nods to history, and elements of magical realism she's known for."—Real Simple "It will enchant lovers of lyrical prose and the mythical American West."—Harper's Bazaar
Learn More
Membership Details
Only $12.99/month gets you 1 Credit/month
Cancel anytime
Hate a book? Then we do too, and we'll exchange it.
See how it works in 15 seconds
Summary
A New York Times Book Review Editor's Choice
A Newsday Pick for Summer
An August 2019 LibraryReads Pick
The New York Times bestselling author of The Tiger's Wife returns with "a bracingly epic and imaginatively mythic journey across the American West" (Entertainment Weekly).
In the lawless, drought-ridden lands of the Arizona Territory in 1893, two extraordinary lives unfold. Nora is an unflinching frontierswoman awaiting the return of the men in her life—her husband, who has gone in search of water for the parched household, and her elder sons, who have vanished after an explosive argument. Nora is biding her time with her youngest son, who is convinced that a mysterious beast is stalking the land around their home.
Meanwhile, Lurie is a former outlaw and a man haunted by ghosts. He sees lost souls who want something from him, and he finds reprieve from their longing in an unexpected relationship that inspires a momentous expedition across the West. The way in which Lurie's death-defying trek at last intersects with Nora's plight is the surprise and suspense of this brilliant novel.
Mythical, lyrical, and sweeping in scope,
Inland
is grounded in true but little-known history. It showcases all of Téa Obreht's talents as a writer, as she subverts and reimagines the myths of the American West, making them entirely—and unforgettably—her own.
Advance praise for
Inland
"This is no boilerplate Louis L'Amour yarn—there are ghosts, camels and other fantastical elements."
—Newsday (Best Summer Books 2019)
"The long-anticipated second novel from Téa Obreht transports readers to the Wild West through the juxtaposed stories of a frontierswoman whose husband and sons have gone missing, and of an outlaw on the run."
—Bustle


"Magnificent . . . brings to mind similar effects in, say, Gabriel García Márquez's
One Hundred Years of Solitude
or Toni Morrison's
Beloved
."
—The Times Literary Supplement
"Obreht masterfully intertwines [Nora's and Lurie's] seemingly unconnected stories with the rich prose, nods to history, and elements of magical realism she's known for."
—Real Simple
"It will enchant lovers of lyrical prose and the mythical American West."
—Harper's Bazaar
Editorial Reviews
So rich with themes of love, legends and mortality that every novel that comes after it this year is in peril of falling short in comparison with its uncanny beauty. —Time  
That The Tiger's Wife never slips entirely into magical realism is part of its magic. . . . Its graceful commingling of contemporary realism and village legend seems even more absorbing. —The Washington Post  
Mesmerizing . . . Obreht's striking ability to explain the world through stories is matched by her patience with the parts of life—and death—that endlessly confound us. —The Boston Globe
A tremendously talented writer.
—
Ann Patchett  
Filled with astonishing immediacy and presence, fleshed out with detail that seems firsthand, The Tiger's Wife is all the more remarkable for being the product not of observation but of imagination. —The New York Times Book Review  
Stunning . . . a richly textured and searing novel. —Michiko Kakutani, The New York Times
Spectacular . . . [Obreht] spins a tale of such marvel and magic in a literary voice so enchanting that the mesmerized reader wants her never to stop. [Grade:] A —Entertainment Weekly
[Obreht] has a talent for subtle plotting that eludes most writers twice her age, and her descriptive powers suggest a kind of channeled genius. . . . No novel [this year] has been more satisfying. —The Wall Street Journal  
Téa Obreht is the most thrilling literary discovery in years.
—
Colum McCann
Details
Available Formats :
CD
Category:
Fiction/Literary
Audience:
Adult
Language:
English
To listen to this title you will need our latest app
Due to publishing rights this title requires DRM and can only be listened to in the Downpour app
DRM (Digital Rights Management) is a copyright protection for digital media. While much of Downpour's content is DRM free, and allows for usage across platforms, select products on Downpour are required by publishers to have DRM protected files. These products will be playable exclusively on the Downpour.com apps, available for iOS and Android devices.