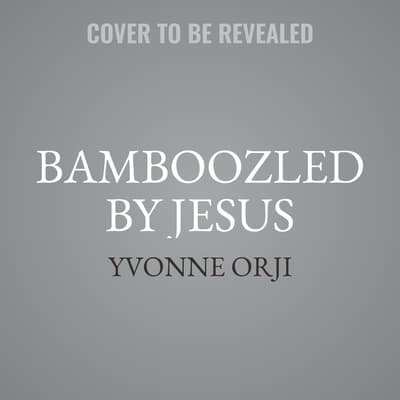 Bamboozled by Jesus: How God Tricked Me into the Life of My Dreams
By Yvonne Orji
Format:

Digital Download

(In Stock)
2 Formats:

Digital Download

or 2 Credits

Available on 02/02/2022

ISBN: 9781250751522

Available on 02/02/2022

ISBN: 9781250751515
Insecure's Yvonne Orji uses a modern-day Biblical blueprint to candidly and humorously share the twists and turns that led her to success—and to inspire and empower listeners to live their best lives. This program is read by the author. Yvonne Orji has never shied away from being unapologetically herself, and that includes being outspoken about her faith. Known for interpreting Biblical stories and metaphors to fit current times, her humorous and accessible approach to faith leaves even non-believers inspired and wanting more. The way Yvonne sees it, God was the Sovereign Prankster long before Ashton Kutcher, running around getting folks punk'd—but in the best way possible. When she meditates on her own life—full of unanticipated roadblocks and unforeseen blessings—she realizes it's one big testimony to how God tricked her into living out her wildest dreams. In Bamboozled by Jesus, a frank and fresh advice audiobook, Orji takes listeners on a journey through twenty life lessons, gleaned from her own experiences and her favorite source of inspiration: the Bible. She infuses wit and heart along with practical pointers—such as why being talented is not as sexy as being available, and how fear is similar to food poisoning—with the goal of helping others live the most fulfilling, audacious life possible. With bold authenticity and practical relatability, Orji will inspire everyone to catapult themselves out of the mundane and into the magnificent. Bamboozled by Jesus paints a powerful picture of what it means to say "yes" to your most rewarding life—no matter your beliefs. A Macmillan Audio production from Flatiron Books
Learn More
Membership Details
Only $12.99/month gets you 1 Credit/month
Cancel anytime
Hate a book? Then we do too, and we'll exchange it.
See how it works in 15 seconds
Summary
Insecure's Yvonne Orji uses a modern-day Biblical blueprint to candidly and humorously share the twists and turns that led her to success—and to inspire and empower listeners to live their best lives. This program is read by the author. Yvonne Orji has never shied away from being unapologetically herself, and that includes being outspoken about her faith. Known for interpreting Biblical stories and metaphors to fit current times, her humorous and accessible approach to faith leaves even non-believers inspired and wanting more. The way Yvonne sees it, God was the Sovereign Prankster long before Ashton Kutcher, running around getting folks punk'd—but in the best way possible. When she meditates on her own life—full of unanticipated roadblocks and unforeseen blessings—she realizes it's one big testimony to how God tricked her into living out her wildest dreams. In Bamboozled by Jesus, a frank and fresh advice audiobook, Orji takes listeners on a journey through twenty life lessons, gleaned from her own experiences and her favorite source of inspiration: the Bible. She infuses wit and heart along with practical pointers—such as why being talented is not as sexy as being available, and how fear is similar to food poisoning—with the goal of helping others live the most fulfilling, audacious life possible. With bold authenticity and practical relatability, Orji will inspire everyone to catapult themselves out of the mundane and into the magnificent. Bamboozled by Jesus paints a powerful picture of what it means to say "yes" to your most rewarding life—no matter your beliefs. A Macmillan Audio production from Flatiron Books
Details
Available Formats :
Digital Download, CD
Category:
Nonfiction/Self-Help
Audience:
Adult
Language:
English
To listen to this title you will need our latest app
Due to publishing rights this title requires DRM and can only be listened to in the Urban Audio Books app
DRM (Digital Rights Management) is a copyright protection for digital media. While much of Urban Audio Books's content is DRM free, and allows for usage across platforms, select products on Urban Audio Books are required by publishers to have DRM protected files. These products will be playable exclusively on the UrbanAudioBooks.com apps, available for iOS and Android devices.